Free The Robots
Saturday, November 11 by Brian Pan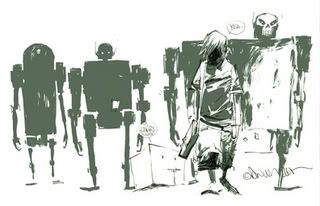 Spin mag says these guys are a "California-based production team" (read "these guys are a group of DJs"). They've produced one album called "The Prototype" which is an eclectic collection of sounds and genres mixed with the ears of a DJ. It's pretty cool stuff. You can listen to it in the player on their
myspace page
or buy it for $5. There's also a bit more about them at
http://elsewherestudios.com/
.
They are featured on a track in Spin.com's cheekily named
Hey This Is Awesome
section. Cities is an fairly uninteresting college rock band from North Carolina. However, they put out a remix album of their self-titled debut. The remix album is called Variations and Free The Robots' slicing and dicing of the song Capitol is the reason for this post.
I'm not sure why, but this track is like crack cocaine to me. The original version of the song is not bad but this freebase form produced in the Robots' lab is likely to destroy families and might need to be banned.
Please use caution as you listen:
Cities - Capitol (original version)
Variations - Capitol (FTR remix)
(updated 11/12)